The Synthrotek Passive Ring Modulator is one of our simplest circuits to build, but yields the biggest payoff.  It's great for a beginner's first project or the experimental musician. Retro sci-fi weirdness, crazy modulation, and unlimited sounds are possibile with this project.  One of the best features is that this circuit requires no battery power at all – everything is passive.
Parts Layout
Before you begin building your Passive Ring Modulator, make sure you have all the parts to complete your project.
1x Ring Modulator PCB (Printed Circuit Board), 4x 1N34A germanium diodes, 3x mono audio jacks (1/8″ or 1/4″), 2x 42TM018 transformers, and wire; that's it!
Let's get started building!
PCB Components
When soldering the diodes to the board line up the black (-) lines with the thick white lines on the PCB.
Before inserting the transformers into the board, bend out the side mounting pins so they will be flush with the board.
Also, each transformer has a P (Primary) side and a S (Secondary) side. The transformer will have a "P" marking or a red dot above pin 1; both of these indicate the primary side. Make sure to match the sides up properly with the indications on the board
Nice! Now for the wired components!
Wired Components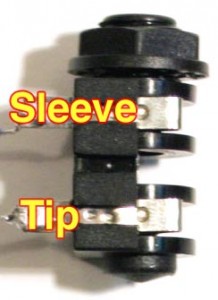 Choose your length of wire, strip it, then solder the wire to the tip (where the tip of your guitar cable would make contact) and sleeve (ground) of your jacks.
When soldering the wire from the jacks to the board, make sure it goes in the correct place! T is for Tip and S is for Sleeve Complete Ring Modulator If you are using 1/8″ jacks with your Passive Ring Modulator,  here are some extra pics to help you hook it up right: 1/8″ Mono Jack The middle solder terminal is not used, so you can cut it off if you want. Complete Ring Modulator With 1/8″ Jacks
That's it!  Now go and make some crazy music!