Thank you for purchasing the Synthrotek Eurorack Case Bracket kit! Installing these brackets is a fairly easy project if you have some basic woodworking skills. If you feel like you can handle it, please proceed! If not, get some help from a friend with experience. You will need to use the exact parts that we include in this kit for the project to work out well.
Start by inserting  slide nuts or nut strips into your rails.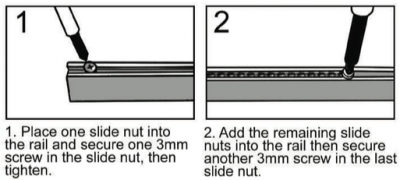 You will receive 4x 10-24 x 1″ (flat undercut head) rail mounting screws, 4x tightening o-rings and 4x (or 2x for 1U) #6 by 3/8″ wood screws (for mounting in wood, etc). If you are not mounting to wood, you will need to find some bolts, etc. that will work with your project.
First take the 4 o-rings and place them onto the 4 rail screws and shown above.
Now screw the first screw into the top of the rail bracket and Synthrotek Eurorack Rail into the center slot as shown above. Orient the rail so that the rail's center slot faces inward; do this for both the top and bottom rails. Keep the o-ring in the center of the screw. Do not over-tighten. It is OK to have slight possible rotation (if you twist hard) of the rail as your modules will keep the rails in the proper place.
Now do the same to the bottom rail. Continue to do this to the other side.
Make sure the O-ring is evenly centered in the countersunk hole and screw as shown above. The screw should be flush with the bracket.
Lastly, rotate each rail slightly if needed so that it the rail end is lines up with the bracket. Set the finished rails on a flat surface and press down with your hands on the brackets to make sure everything is flat.
The next step will depend on the type of case that you are making.  We suggest that you hold the brackets in your case, carefully mark where the mounting holes should go and drill pilot holes before mounting. If you are mounting the brackets in a metal, fiberglass, etc. case, then mark your holes, drill and place nuts and bolts (not included) to secure.  Notice that the 1U Case Brackets come with just one screw hole on each side.  The brackets are designed so that the outer dimension of the brackets are shallower than the rails.  This allows 1U rails and 3U rails to touch each other and not the rails.  This will help stabilize the 1U row.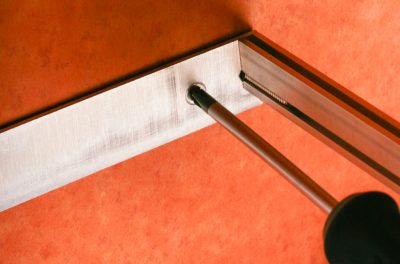 Check for level or desired angle before placing final screws.  You are super close to being done!  Just place a couple modules in on both ends to double-check the rotation of your rails and you are good to go!