The PCB for this product has been discontinued.
Print this template to help layout your pedal design before you begin soldering. You'll probably want to print a couple, things change often in prototyping.
Laying out your circuit can be done many ways but here are two common ways:
1) Use pen or pencil for all solder traces and then use a "bump" to indicate a wire or jumper.
2) Use two different colors, each color indicating a different side of the board. For example, red for top and blue for bottom. Typically running solder along the bottom and wires along the top.
Note: You do not need to print this template to scale to work properly, in fact we like to print it at 2x scale when laying out our circuits.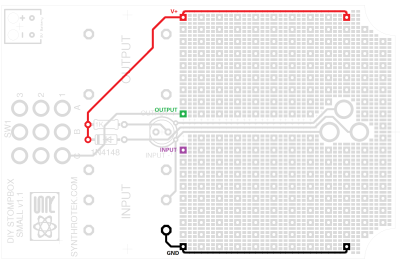 Download the template as image.
Download the template as PDF.