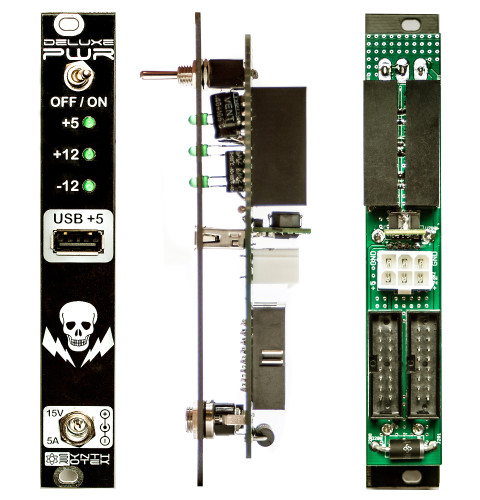 Synthrotek's "super-slim" Deluxe Power is designed to give you maximum power in a small, elegant package.
SMALL & SAFE: 4HP Panel at only 29mm deep! This module is very skiff friendly and will fit in ANY Eurorack case. We use VERY safe and efficient converters and regulators to protect you from short circuits or reverse polarity mistakes. If your system is drawing more power than the Deluxe Power is able to handle, the LED on the front panel will blink and the offending rail will temporarily stop functioning. In that case, simply turn your system off and remove module(s). The fastest and easiest way to check your power consumption is by making a virtual case on ModularGrid. (Please note: Many manufacturers post their operating power consumption on ModularGrid, which can be helpful in determining how many modules can work with the Deluxe Power Module. Manufacturers do not however typically note the startup power draw. Modules may draw significantly more power at startup.)
FLEXIBLE: Finally a system that grows with you! Start off with one Deluxe Power Module and one or two flying bus cables (keyed of course to avoid reverse polarity mistakes!) then graduate to our Noise Filtering Power Distribution boards as your module count grows. Connecting to our boards is a 'snap' now with our new Molex 'quick-release' power system that allows you to daisy chain Synthrotek distribution boards with ease.
POWERFUL: The front panel takes a standard 2.1mm center positive plug and is compatible with our locking DC jacks. For maximum flexibility, this power supply kicks out all 3 rails (-12, +12, +5) with adequate power for a medium-sized case: Ideal for up to 2 rows of 104HP (may power more modules, but it is not guaranteed).
A 15-24V power brick is required (16-24V is recommended) to operate this product (can be purchased as an option above).  A 90W power brick is recommended to take full advantage of all the power this unit can deliver.
Click HERE and HERE for technical information on the +/- 12 DC to DC converters.
Click HERE for technical information on the 5V DC regulator.
Features:
MAX CURRENT AVAILABLE PER RAIL:

+12 @ 2.0A

-12 @ 1.5A

+5 @ 1.5A

Input Voltage Range: 15 to 28 volts DC (16-24V is recommended)
Output Voltage: +12, -12, +5
USB jack
Molex quick-release connector for easy install
2 16-Pin Eurorack power connectors, keyed for safety
Module Width: 4HP
Module Depth: 29mm
Requires 15-24V power brick (16-24V is recommended), DC Input Jack size: 2.1mm (sold separately)
Please note: If you choose to build this unit yourself, please know that this is a VERY ADVANCED build. If you feel up to the task, please proceed! If not, get some help from a friend with experience or purchase a fully completed unit.