The Case Power Mini is a smaller, more affordable version of our Case Power. It is safe, clean, quiet, and will power small Eurorack systems. Connecting Case Power Mini to your current bus board system is easy with our molex Connector or Molex adapter cable. We have 3U or 1U power entry panels available, but Case power Mini doesn't have to take up valuable HP space; you can wire a jack, LED and switch into your case and easily attach them to the board.
Features:
Advanced low-noise, fully regulated voltage converters on each rail

Over-current protection: shuts off each power rail automatically if modules use too much current on that rail

Noise filtering capacitors to help minimize module to module noise

Ten 16-pin Eurorack power connections, keyed for safety

Molex connector for daisy chaining Synthrotek distribution/bus boards

Screw clamp headers for power entry wiring

Multiple power options to fit your needs and budget: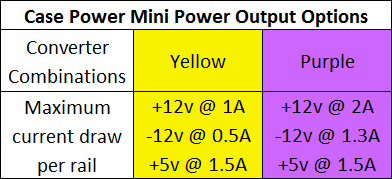 LED status indicator for each rail (+12V, -12V, +5V)
Eight mounting holes for screwing into your case
Optional 1U or 3U backlit Eurorack panels with on/off switch (2.1mm barrel)
Fits a 44HP case or larger
Dimensions: 23cm x 3.5cm (9″x1.4″) height: 14mm (spacers add 3mm)
Requires 16-19V 90W center-positive power brick.