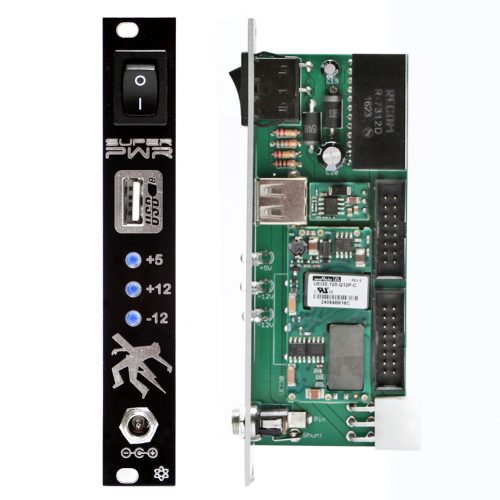 Synthrotek's Super Power gives you loads of power and is skiffable at just 46mm deep! Designed with safety in mind, Super Power has polarity protection and regulators with short circuit, overheating, and over current protection.
Why make a totally new power module? First and foremost, the Deluxe Power Module was a tough build. DIY has always been at the heart of what we do, so we re-oriented the board so that it is simpler to build, and more importantly, simpler to troubleshoot. We also would occasionally have a metal switch break when shipping a Eurorack case, so we switched to a hardy plastic jack.
The new circuit allows Super Power to come in three different power configurations. Super Power Red (with red LEDs) will power a single row of 84 or 104HP, Super Power Green will power two rows of 104HP, and Super Power Blue will power three to four rows of 104HP.
Features:
Multiple power options to fit your needs and budget:

Advanced low-noise, fully-regulated voltage converters on each rail
Over-current protection: shuts off each power rail automatically if modules use too much current on that rail
Two 16-Pin Eurorack power connectors, keyed for safety
Molex quick-release connector for easy install of Synthrotek Noise Filtering Distribution Boards
USB jack for powering an iPhone, Beat Step Pro, etc.
Input Voltage Range: 16 to 19 volts DC
Requires 16-19V power brick, DC Input Jack size: 2.1mm

Module Width: 4HP

Module Depth: 46mm
*Wondering how much power your modules will need? Check out ModularGrid. You can add all your modules to a virtual case and find out your estimated power consumption.