16 Step Deluxe Analog Sequencer Complete – Console
April 1, 2011
16-Step Sequencer Console Edition – DEMO 1
April 5, 2011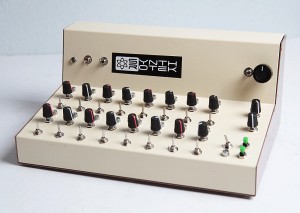 Whoa!  We finally got 'er done.  Our 16 Step Sequencer is now in its own fancy console like case and rippin' rad.  Videos to come REAL soon, but check out the stats for now:
– Full 16 Steps, that can be reset from 1-16 with the flip a switch and turn of our 8 step switch!
– On, Hold-Through, and Off functions per step
– Gate and S-Trig (for Moog synths)
– CV OUT with 2 voltage modes 9v and 5 volts (switched)
– Clock INPUT
– Clock OUT
– Reset sync for connecting multiple sequencers
– LED per step
– Variable Gate length (staccato to full step duration)
– Momentary and hard hold (stop) function for tuning each step
– Retro Console Design
– knobs and switches – get your hands on it!
THIS IS A COMPLETELY ASSEMBLED PROJECT – ASSEMBLED and WIRED by HAND in THE USA! Comes with (9V AC Adapter Power Supply)