Synthrotek Pt2399 Delay Dev Board!
May 15, 2012
Synthrotek Optical Theremin Videos! With MicroMoog Moog Analog Synthesizer!
May 23, 2012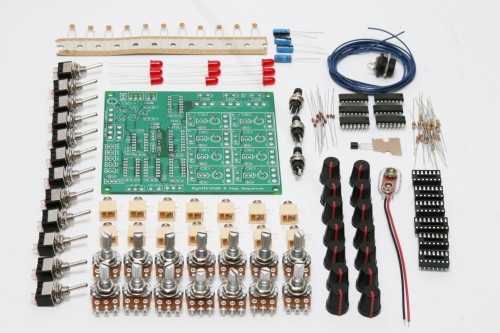 The Synthrotek 8 Step Sequencer is a key element in any synth rig! Turn your static synth into a dynamic and musical instrument.
The picture above is our complete kit with everything you could possibly need except a case.  Stop by the store to check out some of our other 8 step options.
Features:
8 adjustable steps with toggle switches and LED indication
Sequence length can be adjusted from 1-8 steps with modular-style jack inputs. Reset button sets the sequence immediately to the beginning.
3 CV (Control Voltage) outputs allow for multiple synthesizer synchronization with independent threshold adjustment from 0-9V.
Clock IN/OUT to sync with other sequencers or clock-generating sources
– Momentary and Hard (Stop) Hold function to pause your sequence. Step function allows you to manually advance your sequence or adjust each step for precise CV output
Dual Clock Speed Controls (Coarse and Fine) gives users the ability to match the tempo for playing live or in the studio!
Knobs and Switches – get your hands on it!
Powered by 9V Battery or 12VDC Center Negative AC Adapter
For anyone who pre-ordered an 8 step from our old site we will be sending those out ASAP! Thanks