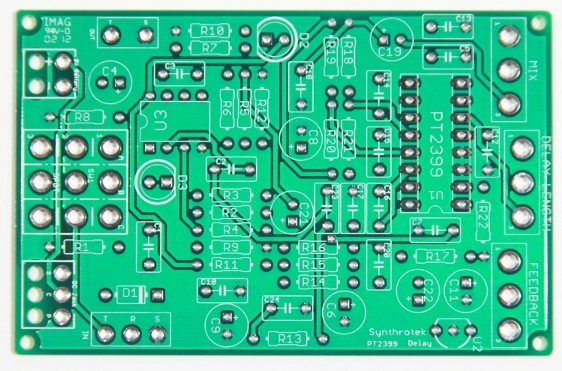 Hey guys!  We've got a totally redesigned PT2399 Delay circuit ready for synth and guitar fans alike!
Features:
3 controls – Delay Length, Mix, and Feedback – to customize your sound. Delay Length adjust your delay from fast slapback echo to long dub-style repeats, Mix allows you to set the wet/dry portions of the signal, Feedback gives you total control over the number of repeats, even allowing infinite repeats.
Buffered input and outputs featuring NE5532 low noise op amps
The PT2399 Echo IC was designed to mimic old-school analog BBD delay with modern digital sampling technology. Repeats degrade at higher delay lengths, resulting is a very natural well-filtered reproduction of your synth/guitar tone.
3PDT switch allows for true bypass switching and LED indicators gives you a visual cue when your PT2399 Delay circuit is engaged and using power
Dual power supplies (9V Battery and +9VDC =>200mA DC Adapter Power Supplies) allow you to have the battery as backup or as the main power
Input jack switching – No instrument cable plugged in, no power used. Save life on your expensive batteries!
PCBs are professionally manufactured in the USA by Imagineering, based out of Elk Grove Village, IL, and designed here at Synthrotek. PCB silkscreen, through-hole components with careful on-board placement, and wire-tension relief holes were designed with the DIYer in mind!
PCB Dimensions: 3.125″ x 2″
Great for synths and guitars! Easy to configure and mod your circuit for a greater delay range, delay length modulation, and a lot more!


Kit Assembly Instructions – Step-by-step instructions to make sure you build your kit the right way!
BOM (Bill of Materials) -A list of parts you'll need to complete your own PT2399 Delay
* PT2399 Echo Audio Processor ICs are going to be available at our store soon! *
---
Find the PT2399 Delay PCB, Kits, and Completed Units
at our new store!

---